Men on Edge
Bound Gods is Kink Men's new gay site, blending tight bondage with intense SM and serious hardcore sex. Built, masculine guys are bound into inescapable bondage, then punished, pleasured and satisfied
12/06/2016 03:00 PM
Furry Muscular Stud is Bound and Edged on a Pool Table!

Gorgeous, muscular and covered in beautiful hair, Alex Mecum is a sight to behold as he's bound in ropes, blindfolded and edged to the limit! He writhes in frustration and ecstasy as his massive cock is sucked, stroked and gripped while his nipples are tightly pinched in clamps and his balls are teased with the hitachi. Next Alex is strapped down to the pool table with his gorgeous furry ass high up in the air as he receives a nice hard fucking with the dick on a stick, his balls bouncing as his hard cock is stroked mercilessly. Finally, after being tied to the bed and tickled, with his feet worshipped and a vibe shoved deep into his ass, Alex blows his huge load all over himself and then falls prey to another onslaught of tickling!
11/22/2016 03:00 PM
Horny Pervert Takes Some Rough Justice

Creepy voyeur Griffin is roughly dragged into the police station after being caught playing with himself in the park and soon discovers he's in good company, but the other perverts aren't his fellow prisoners, but the guards keeping him locked up! They quickly strip Griffin and begin stroking and edging his gorgeous cock as he struggles in the ropes holding him tightly to the side of his cell, teasing him with hitachis and laughing at his screams. Next Griffin finds himself gagged and tied naked to his metal cot, squirming in agony and ecstasy as his cock is subjected to sucking, ball bondage and even the vibrating cock sheath - but still he never reaches climax as he is denied and mocked over and over again by his tormentors! Soon the dick on a stick finds it's way into Griffin's tight ass and he is fucked and sucked relentlessly until he finally blows his massive load all over himself and is left tied up and covered in his own cum, wriggling in his unforgiving bondage and knowing it's only a matter of time until someone else decides to come in and use him for their own twisted fantasies.
11/08/2016 03:00 PM
Tickled to the Extreme in Tight Bondage

With a handsome face, muscled body and an eager cock, Mike Maverick joins us for another hot edging session. He's bound to the windows as Sebastian teases Mike's bulging dick. Feeling the sensation of our tit suckers on his nips, Mike's driven to ecstasy as a cock sleeve slides up and down his hard cock. Van and Sebastian bend over the muscled stud to take a look at his juicy ass, plunging a dildo deep in his hole as they bring him right to the edge. Mike can't stand the tickle torment that ensues on the bed, but the tight bondage is no match for his squirms for escape. After shooting a hot load all over his stomach, Mike thinks he's in the clear, but we surprise him with one more round of tickling before sending him on his way!
10/25/2016 03:00 PM
Jaxton Wheeler's Demented Nightmare

Tormented with insomnia, Jaxton Wheeler paces around his creepy hotel room, unaware of the perverted ghouls that haunt the place. His nightmare becomes reality as the muscled hunk is bound and at the mercy of his ghoulish tormenters. Despite his cries for help, his captors work their mouths all over his body and bring his fat, aching cock to the point of ecstasy. Jaxton has his feet and armpits worshipped before his ass is violated with fingers and toys. Begging for release, Jaxton finally shoots his load all over his chest and endures a painful post orgasmic torment. But his suffering has only begun as Jaxton's left, sewn up inside of the mattress, begging for mercy.
10/11/2016 03:00 PM
Ginger Muscle God Tormented and Edged in Bondage

Tyler Rush is working out in the gym when a giant, muscled hunk, Scott Ambrose, catches his eye. With Sebastian on speed dial, Tyler and Sebastian hatch a plan to take down Scott next time he's at the gym. The two pervs pounce on their victim and bind him to the bench press. His ginger cock stands at attention despite his groans for help. Sucking and stroking, Tyler and Sebastian bring Scott right to the edge of ecstasy before denying him any pleasure. They then fuck his ass with a dildo while worshipping Scott's sweaty toes. Bound from head to toe, Scott wriggles in his bondage as a fleshjack strokes his hard cock. After a relentless edging, Scott's finally allowed to shoot his wad before he's tormented with a severe apple polishing.
09/27/2016 03:00 PM
Edging the Captive Straight Boy

Straight boy Chris Pryce is fucked. Strapped to the wall in a dark, seedy workshop, he can only squirm in place as Sebastian and Branden admire his lean body. More horny than terrified, Chris begs to cum against his restraints, trying to bust a load right into Branden's mouth. Bolted down in tight metal bondage, Chris has his head wrapped in place with a gag in his mouth. Stuck in a rigid spread eagle, his captors admire and worship his feet before finding his ticklish spot. Begging to cum, Chris finally shoots a hot load all over his torso before enduring post-orgasmic torment.
09/13/2016 03:00 PM
Leather Hunk Edged in Chains

Rikk York awaits Sebastian and Jackson in the Armory's boiler room, dick already raging hard as it rubs against his leather pants. The two emerge from the shadows, chain him to the wall and free his beautiful cock. Jackson slowly worships Rikks balls and teases his long shaft the sound of Rikk's gagged moans. Rikk tries in vain to bust his load down Jackson's throat, thrusting his hips against his restraints, but Sebastian pulls Jackson away. They trade off blowing Rikk to the edge before switching to the double hitachi treatment. Rikk gets strapped into a bondage chair, legs spread wide to reveal his hole. Sebastian and Jackson suck and tickle his exposed and vulnerable feet. Just when Rikk thinks he's reached his limit, Sebastian plows his hole with a dildo as Jackson strokes Rikk with the fleshjack. When the fucksaw rocks Rikk's prostate, the stud begs to cum. Sebastian agrees to reward Rikk's patience and Jackson milks a thick load from the stud. Relieved, Rikk shares a taste of his hot cum with Jackson.
08/30/2016 03:00 PM
Edging Straight Boy Until He Busts a Nut Hands-Free

Jordan Boss is a straight jock looking for a good time in bondage. Van and Sebastian secure him between two thick bedposts so they can admire his muscled, athletic body. It doesn't take long before Jordan gets raging hard from Sebastian's strokes. Jordan reaches the peak of his horniness, begging to cum as Sebastian blows his thick cock. But the day's just getting started: Van ties Jordan's bouncing dick down to a stack of books on the floor to keep Jordan from getting himself off in Sebastian's mouth. The two flip Jordan around so Sebastian can get sloppy wet taste of Jordan's straight asshole. The rimjob drives Jordan crazy, thrashing against his ropes while he takes more and more intense edges. Jordan gets pulled down, bound and gagged to chair. Jordan can only wriggle in his ropes and watch in the mirror in front of him as Sebastian worships his feet while jerking his hard dick. After tickling his vulnerable body, Sebastian decides to give Jordan just one more edge before the real thing. Jordan's balls can't take any more pressure, however; he blows a hands-free load from that last painful edge. Now Jordan has to pay the price with a powerful post-orgasmic torment.
08/23/2016 03:00 PM
MOE Cumpilation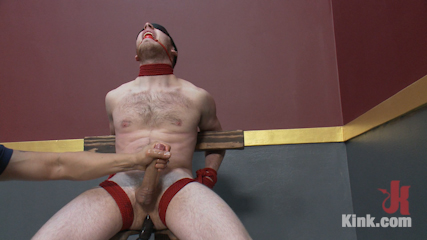 We got something a little extra for you: Men on Edge put together a compilation of our favorite cum shots. A semen-drenched tidal wave of hot guys blowing their loads from intense edging. Gallons and gallons of jizz erupting from swollen balls and gigantic dicks. How long can you last edging yourself through this video?
08/16/2016 03:00 PM
Uncut Stud Edged Beyond His Limit in Stocks

Cody Winter is new to bondage, so Sebastian invites him over to Men on Edge for a hot session of restraint and cum denial. Sebastian leads Cody into a dark room and locks his hands, neck and ankles into vertical stocks. The rush of this new experience gets Cody's uncut dick pulsing with excitement as Sebastian plays with his foreskin. It doesn't take many strokes before Cody begs to cum. Sebastian only replies with nipple clamps and more edges. He takes out the fleshjack and makes Cody thrust into it if he really wants to cum so fucking bad-- pulling it away right before he explodes into it. Sebastian decides Cody has too much freedom, so he adds two more stocks to hold Cody's torso and thighs in place for more painful edges. Sebastian pulls Cody down from the stocks and secures him to a table to get a closer look at his lean body and beautiful toes. He throws Cody's legs back and makes an entire Bad Dragon dildo disappear into Cody's hungry asshole. Sebastian rocks Cody's prostate with punches to the base of the dildo, giving another edge to the whimpering stud. At wits' end, Cody finally has permission to cum after pushing the entire dildo out of his ass. His dick bursts a bucketload of hot jizz-- paid for with a painful tickling and apple polishing immediately after.