Men on Edge
BoundGods.com is KinkMen.com's new gay site, blending tight bondage with intense SM and serious hardcore sex. Built, masculine guys are bound into inescapable bondage, then punished, pleasured and satisfied
11/17/2015 03:00 PM
Rikk York gets slammed to the mat and edged

Wearing a tight singlet, Rikk York runs through some wrestling drills at the gym when Jessie Colter comes by for practice. Agreeing to spar, Jessie takes Rikk down to the mat in seconds his giant cock is bulging out of his singlet. Embarassed, Rikk tries to fight Jessie off, but Jessie's leg lock is just too strong. Jessie takes advantage of the situation to tie up Rikk right on the mat and admire his throbbing cock. Rather than struggle, Rikk squirms to get his rocks off as his toes get sucked off while his cock is brought to the edge with a vibrating sheath. Just as Rikk is about to blow, Jessie tickles his pits and toes viciously and moves him to a suspension. Rikk hangs by his wrists while Jessie pulls on his sensitive nipples and sucks his cock. With Rikk's ass on display, Jessie admires his hairy hole and fucks it with a vibrator, making Rikk drool & moan through his gag. Jessie trades the vibrator for a prostate massager and jerks a hot load from Rikk. Grateful to finally blow, Rikk accepts a handful of his own cum. For a final victory lap over his sparring partner, Jessie torment's Rikk's still sensitive cock and leaves him hanging for the janitor to find.
11/10/2015 03:00 PM
Greedy for edging: Tall hunk Logan Stone shoots a load in his own face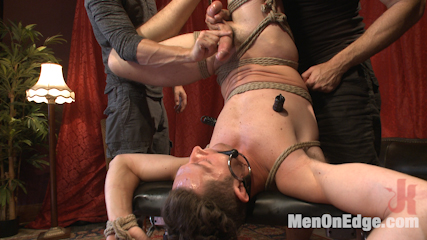 Logan Stone is a hot electrician who loves getting edged. He joins Jessie and Sebastian for a session in the Armory, where they waste no time in stripping Logan to his skivvies. The outline of Logan's cock bulges prominently as Sebastian ties Logan across the front of a four-post bed. Jessie gets a taste of Logan's meaty nipples and moves to his massive dick. With Logan blindfolded, Jessie holds out a fleshjack for Logan to fuck to completion, if only he could find it. Logan's cock chases the toy, finds it, and finally brings himself to cusp of orgasm -- right before Jessie tears it away. Sebastian repeats the torment with a vibrating sheath, bringing Logan to the edge and then tickling the stud at his most vulnerable moment. Jessie and Sebastian move Logan to the other side of the room and invert him. Logan has his tender cock sucked as he receive nipple suckers and a bit gag. Begging to cum through the gag, his tormentors plow his ass with a dildo before tying it off to his leg and making the stud fuck himself with it. Logan finally receives their permission to cum and blows a load all onto his face. Still in a daze from cumming, Logan is perfectly vulnerable for the last piece of torment. He twists and fights against his restraints as they tickle his body and polish his sensitive cock head.
11/03/2015 03:00 PM
Jack Hunter's audition becomes a dark edging fantasy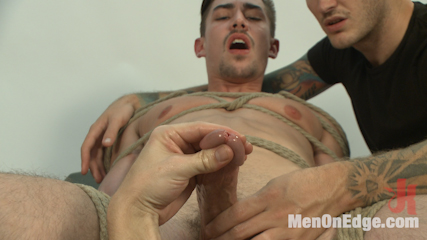 Jack Hunter arrives at the Armory on a brisk autumn day for an audition and photo shoot with KinkMen. Liking what they see through the lens, Sebastian and Christian start playing with Jack. He has his lean body bound in tight ropes as his erection tries to fight its way out of his briefs. Sebastian presses his hitachis against Jack's giant cock, bringing the stud to the edge of an orgasm before taking the toys away. Christian pulls Jack onto a platform box and admires the hard dick standing at full attention. After a round of edging, Jack and Christian return to the green room for a break.

Jack starts feeling a little funny after the bondage. Next thing he knows, he's bound to the wall of a dungeon as Christian and Sebastian work their hands all over his body. As he moans and grinds against his bondage, Jack takes a dildo deep inside his hole. Sebastian edges Jack with a hollowed out pumpkin in the spirit of the season. With his huge cock impaling the entire pumpkin, Jack nearly blows it as the vibrating sheath fits over his cock head. Finally deciding to let the stud cum, Christian milks a hot load from Jack while Sebastian holds a vibrator deep within his hole. Fresh from cumming, the torment resumes as Sebastian jacks the sensitive cock once more with the pumpkin.
10/27/2015 03:00 PM
Scott Riley gets captured, edged and fucked by horny plumbers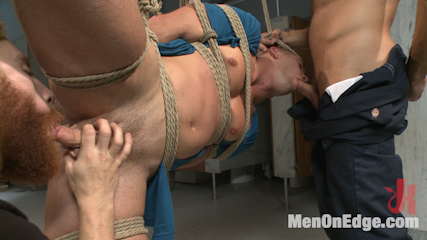 Sebastian and Jessie are fixing a public restroom when they come across Scott Riley, a hot stud fresh out the Army. The temptation to play with the boy is too much for these pervs, so Jessie whips out his cock and they take Scott down. Scott hangs horizontally from the ceiling -- and at the mercy of Sebastian and Jessie -- as they tear the clothes from his body. Scott's dick rages while Jessie worships Scott's balls and Sebastian works hitachis up his shaft and over his nipples. To their delight, Scott turns out to be a cock hungry slut. The boy greedily sucks Jessie as Sebastian edges him. After tickling Scott to prevent a close orgasm, the two strap him down to a stall and get back to work on his cock. Scott moans through a bit gag with each edge, grinding his hips into the hitachis and begging to cum. His ass gets plowed by a plunger and vibrating dildos before Sebastian and Jessie finally allow Scott to cum. But, of course, Scott has to pay for such a privilege. He takes the load into his mouth and receives a brutal torment on his sensitive cock. Jessie gives Scott one more tickling and leaves the boy in his mess.
10/20/2015 03:00 PM
Edged so intensely that this tall stud shoots twice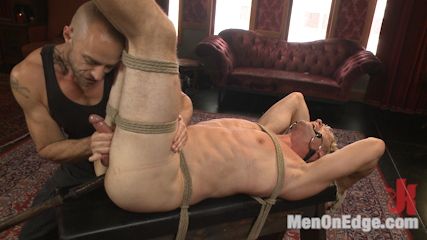 Daniel Lament is a tall glass of French-Canadian water, and he's here with Men on Edge today for his first ever session in ropes. Fascinated and horny with all the toys in the Armory's Upper Floor, Daniel touches himself while Jessie gives him a tour. Sebastian shows up and the session begins as Daniel is lead to the wedge and tied down. The two take their time with Daniel, sensually admiring his lean body before blindfolding him and freeing his dick out from his briefs. Daniel pulls against the ropes and humps Jessie's face as he sucks the stud to an edge. Just when Daniel thinks he's at the height of pleasure, Sebastian brings out two hitachis on stands and places them right under Daniel's balls, taking him to the edge yet again. They move Daniel to a sawhorse and suspend his ankles from the ceiling, leaving his ass open and ready for a dildo deep inside. Daniel's dick is ready to explode as the dildo jams his prostate, each thrust building more pressure. Daniel can't take much more of the treatment and prematurely shoots a small load, but soon begs for a full blast. Jessie and Sebastian oblige, and a volcano of cum erupts from Daniel's dick. Just as he's coming back to earth, Jessie and Sebastian tickle and torment Daniel's overstimulated body to finish as he curses in French.
10/13/2015 03:00 PM
Edged in front of a live audience Christian Wilde blows a massive load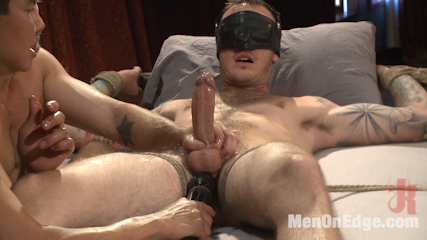 With Christian Wilde as a model sub, Van Darkholme shares his expertise in bondage and edging in front of a live audience. He walks through practical rope work for chairs and beds, binding Christian and with the help of Jessie Colter, working a throbbing erection from the horny stud. Christian reveals to the crowd that he hasn't cum in three days as he moans and squirms in his ropes with each edge. Van then moves to a live Kinbaku demonstration, sensually binding Christian in a suspension. With Jessie teasing Christian's cock along the way, Van guides Christian through different positions and suspensions. After an aerial edge with Van hanging from Christian's swinging body, Van finally decides to allow Christian to cum. With three days of cum built up, Christian busts a huge load to the approval of the crowd.
10/06/2015 03:00 PM
Cute guy overpowered and edged in the laundromat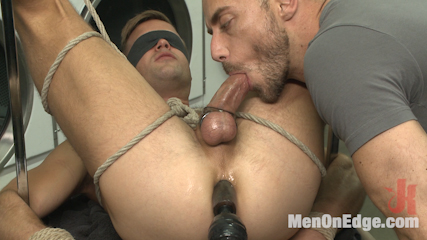 It's a quiet day at the laundromat -- just Connor Patricks and two pervs who won't stop checking him out. Connor's ass bent over a dryer becomes too tempting, so Jessie and Sebastian nab the hottie and tie him up right there in the laundromat. He struggles against the ropes as his captors strip him down and play with his cock. Soon, Connor begs not to be let go, but instead to get off, as Jessie sucks on Connor's raging boner and Sebastian presses two hitachis over Connor's balls and taint. After a vicious tickling, Jessie and Sebastian move Connor to a laundry cart, tying his ankles above his head. With his ass wide open, Connor has his prostate pounded with a vibrating dildo. His captors trade the vibrator for two more dildos, spitroasting the boy and having him eat Jessie's ass. Each edge becomes more painful for Connor's dick as it bulges under a tight cockring. By the time Jessie and Sebastian allow Connor to cum, the boy shoots a thick load all over himself. After getting a taste of his own cum, Connor takes an apple polishing and is left in ropes as Jessie and Sebastian leave to let the spin cycle finish.
09/29/2015 03:00 PM
Bi southern hunk gets his first edging in bondage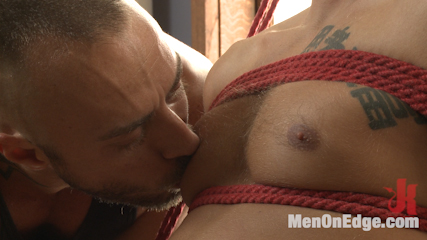 Southern stud Rob Ryder is a hot bi guy who has never been tied up and edged, so Jessie and Sebastian decide to treat him to a full session. They strip Rob to his underwear and secure him to a chair, making sure his hands can't go anywhere near his dick. By the time Sebastian finishes the ropes, Rob already has a raging boner. They blindfold the boy to heighten the sensations of their tongues running over his cock and nipples. Using the fleshjack, they ramp up the edging, leaving Rob begging to cum. But Jessie and Sebastian aren't done yet. Rob gets introduced to two hitachis and Jessie's mouth, nearly blowing his load. They move Rob to the bed and tie his limbs off to the bedposts. Lying spread out on the bed, Rob has his toes worshipped and asshole explored. The vibrating cocksheath has Rob dripping with precum before Sebastian tastes Rob's hole as Jessie sucks him off. Deciding to finally let the boy cum, Jessie and Sebastian milk a thick load from Rob before a brutal tickling and cock torment. They fit the cock sheath back on Rob's sensitive dick and leave the room as he struggles against his bondage.
09/22/2015 03:00 PM
Mormon Missionary takes two dildos in his innocent ass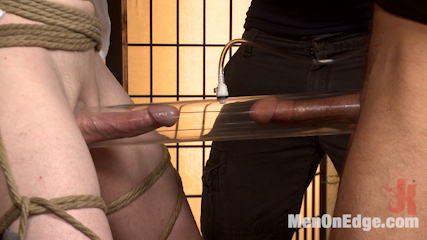 Jack Redmond is out spreading the good word of the Mormon Church when he knocks on Jessie and Sebastian's door. Unknown to him, those pervs were in the middle of trolling the internet for some ass. They take Jack inside and capture the boy, binding him to the stairs and stripping away his uniform. Despite his pleas, Jessie and Sebastian edge Jack's cock to a dripping faucet of precum. They bring his package to attention with two hitachis, and swell his cock and nipples with a pump, Jessie sharing in the suction. The two take Jack over to the bed and introduce the missionary to the world of anal penetration, enrolling him in an accelerated course involving two dildos and then a massive Bad Dragon in his hole. Jessie milks a thick load from Jack and has him taste his own cum. Sebastian decides to peel away for a hookup, but Jessie's still got Jack all to himself for later.
09/15/2015 03:00 PM
Cruising for Cock - Muscled jock gets tied up & fisted in the showers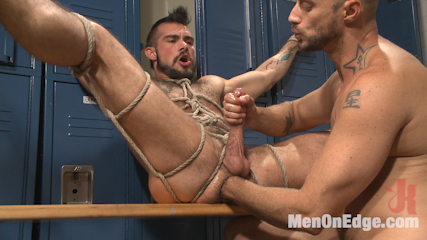 Aarin Asker's cruising in the gym when he comes across Jessie Colter taking a steamy shower. Jessie notices the curious stud groping his crotch and makes his way over to the lockers slowly, sizing Aarin up. The two start making out and exploring each others cocks when Jessie decides to make the showers steamier. Pulling rope from his locker, Jessie secures Aarin across the bench, legs spread wide. Aarin moans in the rope harness as Jessie strips the clothes from his ripped body, licking his feet and slowly moving toward his crotch. Jessie repeatedly teases Aarin's throbbing cock, bringing it so close to the edge again and again with his hands, mouth and vibrating cock sheath. Jessie moves his attention to Aarin's hole, finding it eager and hungry. Aarin takes a full fist in his ass as he begs to cum. Not yet finished, Jessie brings Aarin into the sauna and continues the edging, each one more tormenting than the last. Aarin begs to cum through a ball gag as his cock receives a massage from two hitachis. For all he's taken today, Jessie finally decides to grant Aarin an orgasm and milks out a rich load from stud. Just as Aarin moans in relief, he feels the pain of an apple polishing before he's left in a cumdrunk daze.