Men on Edge
BoundGods.com is KinkMen.com's new gay site, blending tight bondage with intense SM and serious hardcore sex. Built, masculine guys are bound into inescapable bondage, then punished, pleasured and satisfied
07/28/2015 03:00 PM
Micah Brandt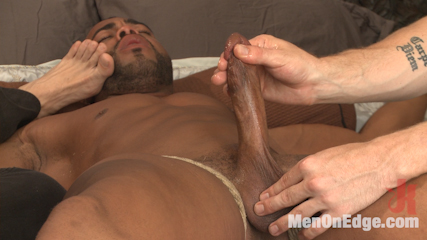 Micah Brandt has been watching Kink Men for years and says that he gets turned on because he's never done it before. Though he's edged himself in his personal life he's never been bound and been edged by another. We start with him tied up to the bed post while balancing on a stack of books. Jessie Colter tears Micah's underwear off with his teeth and plays with the ripped stud's pre-cum. In no time at all Micah gets pissed off by the teasing and sensory deprivation. He fucks Jessie's mouth with clamps on his balls but he's reduced to a whimper as Sebastian and Jesse leave him alone in the room. Next, bound on the bed, Sebastian and Jessie suck his toes while making Micah suck their own. In a piledriver position on the bed we fuck his ass with the vibrating dildo making him beg again and again. With Jessie's ass smothering Micah's face he continues to beg. After a full day of edging he rockets his huge load all over himself and receives the post-orgasmic tickle torture.
07/21/2015 03:00 PM
Begging to cum while tied up at the gym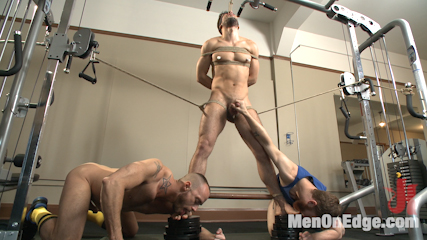 Kyle Kash is trying to work out at the gym when Jesse Colter and Sebastian start to perv on him. When Kyle blows off their advances he gets caught up in Sebastian's ropes and bound to the exercise equipment. They cut off Kyle's clothes and by the time they've stripped him down to his jock he's already rock hard. Kyle nearly cums while getting his nipples sucked so the boys slow down and keep him in suspense. They finger his ass while sucking him off and Kyle screams through his jock-strap gag when they deny him. Jesse and Sebastian continue their fun with Kyle bound standing while balancing on weights. They make Kyle suck on Jesse's cock while they edge him and then fuck his ass with the ShockSpot. Finally ready to see the gym stud's load they restrain him to a bench and blindfold him. With Kyle covered in his own cum they tickle him mercilessly and leave him to be found in his mess.
07/14/2015 03:00 PM
Hot cowboy tied up for the first time and shoots a load onto his face!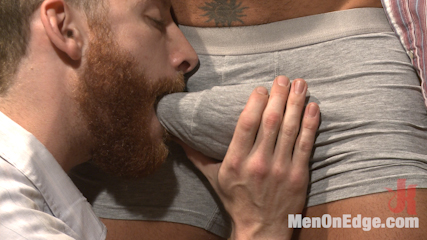 Sebastian Keys just got a job working as a farmhand under a lean country stud, Coby Mitchell. As they move bales of hay into the barn, Sebastian discovers a pile of rope and decides to introduce Coby to bondage and edging. Coby, curious and turned on by the new farmhand, agrees to let Sebastian tie him up. With arms stretched across a horizontal beam, Coby gets his first lesson in edging-- you're not in control. Sebastian blindfolds Coby to heighten the sensation of touch and tears the clothing from his tight body. Coby is already rock hard as Sebastian cuts away his underwear and starts jacking him off. Sebastian brings out his trusted hitachis, running them over Coby's cock head as Coby thrusts his body into them, trying to get himself to cum. The bound cowboy gets tickled and edged once more before Sebastian leaves him on the beam to wait for the next phase of the lesson. Next, Coby's bound to a hay bale, Sebastian continuing to play with the stud's painfully sensitive cock. Sucking on Coby's toes and feet Sebastian works out another edge on the stud. Sebastian moves onto Coby's tight hole, introducing it to dildos and prostate massagers, all the while Coby begs to cum under the treatment. After an entire afternoon of edging, Sebastian feels generous enough to conclude the lesson and has Coby bust a thick load and even shoots himself in the face!
07/07/2015 03:00 PM
Horny mental patient hallucinates a dual edging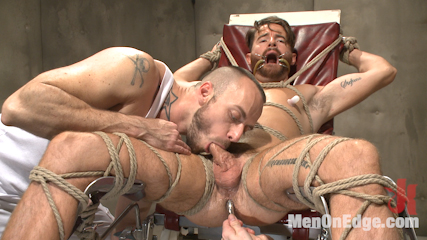 Sebastian Keys and Jessie Colter have Brendan Patrick under strict observation in the psych ward. Through the mirrored glass, they watch the sexual deviant twist in his straightjacket, begging to cum. All he wants is to blow his load, but the world just won't let him. His mind lapses. Before Brendan knows it, he's inverted from the ceiling as the two ward attendants work his cock into a frustrated erection. Jessie has Brendan swinging to swallow his huge dick while Sebastian brings the patient to the edge with a vibrating cock sheath. The doctors finger Brendan's pink hole before denying another orgasm with vicious tickling. Brendan's mind blurs again. He finds himself strapped to an exam chair, legs spread, mouth gaped open with a spyder gag. Jessie sucks Brendan's throbbing dick through multiple edges as Sebastian torments Brendan's prostate. Brendan's fucked in a succession of the metal dong, a vibrating dildo and the prostrate massager while his cock stands at attention, eager to burst. Bringing back the cock sheath, the attendants finally allow Brendan to bust a long awaited load and taste his seed.
06/30/2015 03:00 PM
Wolf Hudson's giant uncut cock gets tied up and relentlessly edged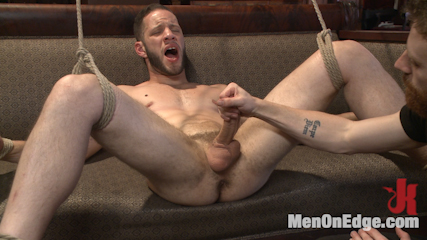 Wolf Hudson is a "hetero-flexible" stud who's never been tied up by another man before. Men on Edge is more than happy to give Wolf that first experience. Sebastian takes Wolf to the Armory's lounge and binds his arms into a tight rope harness. Now under Sebastian's control, Wolf moans as his clothes stripped from his body while his nipples are caressed. Sebastian works his way down to Wolf's bulging cock, slowly teasing it out from the underwear. A hitachi brings Wolf's cock to full attention, and Sebastian's tongue brings it to the edge. Sebastian brings out a fleshjack and makes Wolf shake in the bondage with each denied orgasm. The bondage gets intensified as Wolf is made to stand on one leg, the other suspended. This gives Sebastian the perfect angle to worship and tickle Wolf's feet. Next, Wolf is bound to a couch as Sebastian explores Wolf's eager hole with his fingers and vibrating dildos. With a prostate massager replacing the dildos, Wolf can no longer withstand the the relentless edging and begs to cum through a ball gag. Sebastian finally milks a huge load from Wolf's balls and finishes off with a rough cockhead polishing.
06/23/2015 03:00 PM
The Pool Boy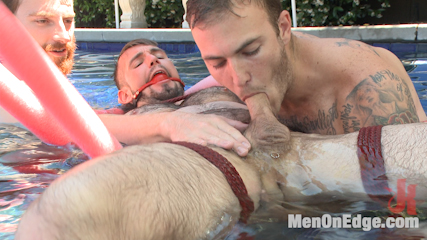 Christian and Sebastian are out pool hopping when they stumble over a gorgeous tiled pool tended by Chris Harder, a studly pool boy with a hot ass. Sebastian pretends to drown in order to lure Chris into their clutches. From there, Christian and Sebastian fasten the pool boy to foam noodles and tease an erection out of his tight swim trunks. They torment the pool boy's nipples and make him suck cock underwater while bringing him to the edge over and over. Chris is pulled into the bungalow and suspended in the kitchen while the two spin him around and toy with his raging boner. Christian busts cum all over Chris' moaning face as Sebastian rams a vibrating dildo into Chris' ass. The summer fun's not over yet, so Sebastian pulls out a fucksaw and plows the pool boy's prostate. Begging to cum, Chris finally relieves himself while shooting a huge load all over the floor. Helpless and cum drunk, Chris is finished off with post-orgasmic torment and intense tickling to top it all off.
06/16/2015 03:00 PM
Pervy handyman has his way with a hot muscle god at the gym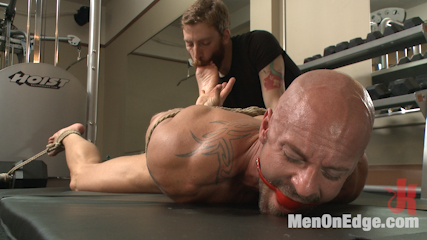 Ripped muscle god, Mitch Vaughn, is taking a piss at the gym when he catches the ever-pervy Sebastian creeping on him. Mitch brushes it off and goes back to hitting the weights. Before he knows what's happening he finds himself bound to the bench press with his legs high and his ass exposed. Sebastian licks the pink hole between Mitch's plump ass cheeks and gets his cock hard. Mitch keeps saying he doesn't like it but he nearly cums anyway. With a dildo firmly inside Mitch's ass, Sebastian tickles the hell out of him. Every twist and turn makes Mitch fuck his own ass. In rope from head to toe, Mitch is tied to 100lb. weights as he's violated by the Fucksall. Sebastian's next toy is the e-stim dildo. Mitch nearly cums from the electro right on his prostate but Sebastian walks away. Mitch begs and begs for him to return and finally launches a huge load all over his muscular chest.
06/09/2015 03:00 PM
Puppy can suck his own dick, and does it live!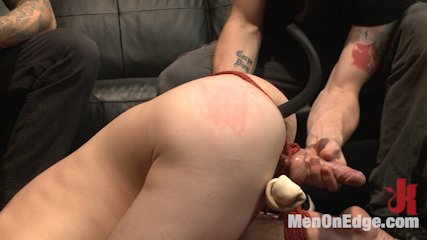 Hot boy next door Jackson Fillmore joins Men on Edge Live to try out puppy play for the first time. He jumps right into the role, submitting to Christian and Sebastian as soon as the puppy mask goes on. Christian leads Jackson around on a short leash and has the pup worship his boots while Sebastian hogties him. Jackson is made to wear a rawhide bone on his balls as they edge him repeatedly, getting suggestions from the members. Jackson is even made to suck his own dick in a piledriver. Sebastian and Christian take Jackson to the bed, bending the eager pup over and toying his his hairy asshole. Jackson may not be allowed to cum yet, but Christian takes the opportunity to blow a load all over Jackson's face. Flipped over Jackson endures an alternate between torment and pleasure as he's relentlessly tickled. An even bigger pup tail plug is inserted before Jackson finally gets to blow his load, obediently lapping up his cum from Sebastian's hand. Helpless to move, Jackson's finished off with a vicious tickling and apple polishing on his sensitive, uncut cockhead.
06/02/2015 03:00 PM
First timer with a giant cock gets suspended and edged above the drill court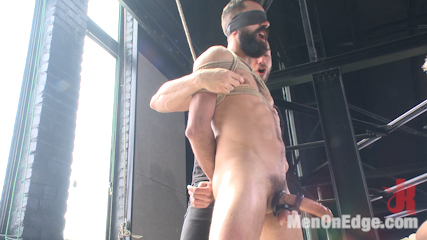 Men on Edge welcomes studly Dean Brody high up above Armory's drill court for his first bondage experience. Sebastian and Jessie Colter work Dean into a throbbing boner that his underwear can't contain as the ropes come around his chest. Dean has his nipples played with, a cock ring fitted over his huge dick and nearly blows his load from a vibrator treatment. Sebastian and Jessie raise Dean above the floor and continue the alternating pleasure and torment. They edge and tickle the stud before leaving him to hang, begging to be finished off. Next, they take Dean to another corner of the bleachers, bound bent-over with his ass presented outward. Dean has his hungry hole filled with dildos and repeatedly taken to his limit. After the long day of edging, Sebastian and Jessie finally allow Dean to bust a load and wipe the cum into his beard.
05/26/2015 03:00 PM
College jock gets a crash course in edging while bound to the urinals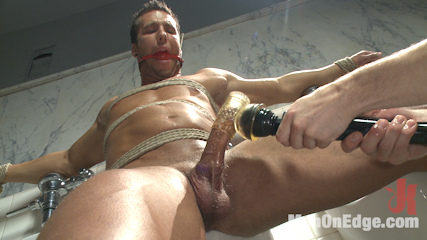 Rod Peterson may look like your typical straight jock, but he still takes his education seriously. As Rod pours through his anatomy homework, Sebastian comes by the reading room and starts perving on him. Annoyed by Sebastian's advances, Rod retreats to a secluded bathroom. Just when Rod thinks he's finally alone, Sebastian tackles the stud and binds him in the center of the room. Rod is jerked, blown, massaged by hitachis and fucked with a plunger, but never allowed to cum. His muscles bulge under the ropes, moaning louder with each successive edge. Sebastian moves Rod over to the urinals as Rod's boner rages. Rod has his feet worshipped and cock worked with a vibrating cock sleeve, making a mess all over himself as he drools from the ball gag. Sebastian finally feels generous enough to let the stud blow his load, but not without having the straight boy taste his own cum.