Men on Edge
Bound Gods is Kink Men's new gay site, blending tight bondage with intense SM and serious hardcore sex. Built, masculine guys are bound into inescapable bondage, then punished, pleasured and satisfied
06/21/2016 03:00 PM
World Premiere - The Forbidden Tango

Sebastian manages to drag Van to tango lessons, where the two find a hot -- yet totally cruel -- instructor in Adam Ramzi. They have enough of Adam's mean teaching method, capturing him and binding him in front of his dance studio's windows. Against his protests and taunts, they cut his clothes off to reveal a chiseled body and beautiful cock. Sebastian's tongue brings him to the edge over and over. Adam tries to fuck two hitachis pressing his throbbing cock head and balls. Adam ends up in a rope sling, dangling in front of his mirrors, watching his body twist against the denied orgasms. Van rigs a dildo into the web of ropes, making Adam fuck himself as he squirms with Sebastian worshipping his feet. They finally let Adam's cock explode in thick, heavy cum. The punishment moves to tickling, taking advantage of Adam's dazed state. But Van and Sebastian aren't done yet: they still have to debut their dance number...
06/14/2016 03:00 PM
Hot Stud Trapped at the Glory Hole

Jackson's cruising the bathroom for a hottie to blow and runs across Kyler Ash. Unfortunately, Kyler plays hard to get with Jackson at the glory hole. When Van shows up, Jackson and Van capture the stud and lock his dick in place with ropes. Now Jackson finally gets blow the little cocktease through the gloryhole. Kyler begs to cum in muffled groans through his gag. They're not letting him off so easy, so they drag him to the front of the stalls and drive him crazy with tight strokes from the fleshjack. Kyler gets hoisted into a suspension and swings as he sucks Jackson's cock. Van rocks his prostate with a dildo and Jackson worships his toes while taking edge after edge. They finally decide to let him down and blow his load, making sure he gets a big taste of his own cum. Just because he came, it doesn't mean the torment ends-- Jackson and Van get Kyler squirming as they tickle his pits and overstimulate his throbbing cock head.
06/07/2016 03:00 PM
Metal Rack to Sleep Sack: Captive Boy's Thick Cock Edged Mercilessly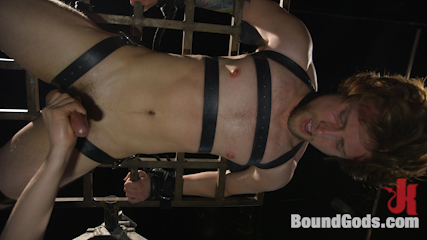 Captured and caged, Scotty Zee has no idea what sexy torment awaits him in this dark workshop. Van arrives and drags him to a metal rack, binding him tight against it with the help of Branden Forrest. The two unveil Scotty's beautiful dick as it pulses with horny anticipation. Branden wraps his long tongue up and down Scotty's shaft and teases his nipples. It doesn't take long before Scotty begs to cum. Van intensifies the torment with flips to the rack, first putting Scotty on his back, then hanging over the ground as he receives edge after edge. Scotty finds himself trapped in the Max Cita sleep sack, swinging from pipes overhead, with only his dick free for edging. Van and Branden slowly free Scotty piece-by-piece from the sack, trading the bondage for more and more intense edges. Scotty can't take more as the two ram his prostate with their Hitachi dildo. They finally allow him to cum, milking a hot load all over his abs. After Scotty gets a taste of his own jizz, they overwhelm his senses with a vicious tickling.
05/31/2016 03:00 PM
Security Guard Edged Beyond his Limit in the Bathroom

Horny as ever, Sebastian's been waiting for action in the bathroom all day, but the only guy around is the annoying security guard, Brogan Reed. Sebastian can't take all the pestering, so he overpowers Brogan and ties him up against the stall dividers. Brogan struggles and squirms in ropes as Sebastian cuts off his uniform to reveal a ripped body and a beautiful, throbbing cock. Sebastian takes all of Brogan's dick into his mouth and edges the guard without mercy while bound over the toilet. Sebastian taunts Brogan in the mirror, showing the guard just how hard and helpless he is in ropes. He pulls Brogan onto a table and binds him spread eagle across it to suck his toes while jerking his raging erection. Brogan's posture leaves him wide open for a big vibrating dildo straight up his asshole. Begging to cum, Brogan finds himself at the mirror again, taking edge after edge. Sebastian finally allows him to spurt hot cum all over his reflection, ending his relief with a rough tickling and cock torment.
05/24/2016 03:00 PM
JJ Knight gets his ass violated and his 10" Cock edged to the extreme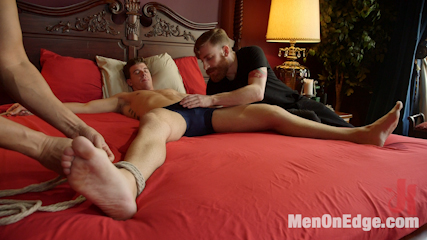 JJ waits patiently for his edging session, while Van and Sebastian are eager to get there hands around JJ's giant cock . The two immediately tie JJ to a bed, and pull out his 10 inch dick. Sebastian quickly gets that massive cock in his mouth, and suck and strokes it until JJ is ready to cum. Van holds that cum back by tying JJ's throbbing cock to the bed, and putting clamps on his nipples. JJ begs to cum as Van and Sebastian press him up against the bed post. Van wraps his body in white tape, while Sebastian jerks his cock just to the point of that sweet release. Van and Sebastian then realize they've given too little attention to JJ's tight ass. They rectify the mistake by bending JJ over, and stretching out his hole with a dildo. JJ is then retied to the bed, and allowed to shoot his load.
05/17/2016 03:00 PM
Coach Edges Hot Baseball Player in Locker Room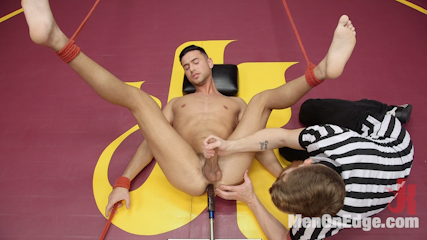 Coach Sebastian Keys can't resist seducing the new team member, Josh Conners. Josh is quick to accept the coach's advances as they lick each others' whore mouths. The two have some free time before practice, and a quick fuck is not an option. Coach Keys caresses Josh's hard cock, and offers to give his new player an edging he won't soon forget. Coach Keys wraps tight ropes around Josh's hard body, and pushes him up against the wall before pulling out his throbbing dick. Coach Keys massages Josh's cock with his tongue and hands until Josh is ready to blow his load all over Coach Keys. The Coach likes his players to have discipline, and makes Josh hold back the cum. The Coach takes Josh out the the gym matt, where he is tied up, and machine fucked with a Shock Spot. The machine stretches open Josh's ass, while Coach Keys strokes his cock until Josh is begging to cum. Coach Keys pulls at Josh's hard cock until he blasts his hot cum all over himself.
05/10/2016 03:00 PM
New Kink Stud gets Private Edging Session on His First Day at Work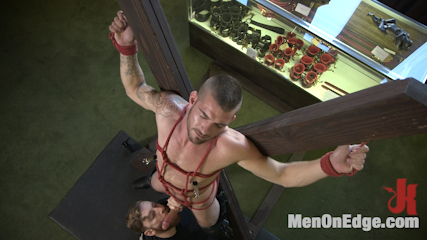 Tryp Bates is the new clerk at the merchandise shop. Sebastian Keys decides to give Tryp a tour around the armory. Tryp and Sebastian run into Van working at the gift shop. Tryp explores all the hot toys while Van and Sebastian stare at the bulge growing in Tryp's leather jock. Van and Sebastian offer to give Tryp a private edging session as a welcoming gift. Tryp hastily agrees and is immediately tied to a St, Andrew's cross. Van and Sebastian tear off Tryp's jock, revealing his raging boner. Sebastian then sucks and strokes Tryp's stiff dick, until he is ready to blow his load. Tryp pleas for Van and Sebastian to let him cum, but the edging has just begun. Tryp is dragged into the Merchandise room, and tied onto a table. Van then sticks a dildo up Tryp's tight ass, while Sebastian edges him. Flips Tryp over and pulls the dildo out of his ass, and Sebastian takes the opportunity to lick Tryp's toes. Van and Sebastian finally allow Tryp to cum. Sebastian strokes Tryp's cock until Tryp blasts his cum all over the store, where Van and Sebastian leave him to clean up his mess.
05/03/2016 03:00 PM
Ripped Stud Caught in Sebastian's Web and Edged Relentlessly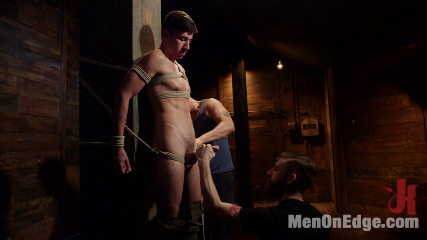 New to bondage, Scott DeMarco can't wait to get the full Men on Edge treatment with Sebastian and Van. They bind him to a wooden post and cut the clothes from his lean body, revealing an already raging erection. Wrapped tight and loving it, Scott is ready to blow in seconds. Sebastian doesn't let Scott off so easily, letting the pressure build as he brings Scott to the edge with his hands and mouth. Scott tries to fuck Sebastian's mouth in vain, but he's not in control today. Scott's tormentors remove him from the post and trap his body in a web of rope, helpless against edge after edge. They rig a dildo through the web and into Scott's ass, filling his hole while Sebastian denies Scott's hot load and tickles his feet. Sebastian takes his time before finally milking a fountain of hot cum from Scott and then immediately tormenting his sensitive cock head.
04/26/2016 03:00 PM
Cancelled Birthday Party Becomes a Messy Edging Party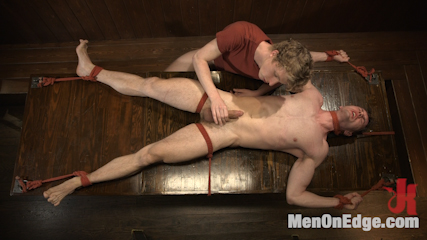 Branden Forrest waits at the bar to surprise Sebastian Keys for his birthday. As the night winds down, Sebastian never shows up, so Forrest starts flirting with the hot guy tending drinks, Brandon Blake. With nothing else to do for the night, Forrest offers to show Brandon offers a bigger tip if he demonstrate little thing or two about edging for the bartender. Brandon agrees and spreads his muscled arms across the bar, held down tight with ropes while Forrest strips his body. With a blindfold over his eyes. Brandon's senses are left to focus on the slightest sensations running down his cock as Forrest brings him to the edge of cumming. Forrest takes Brandon to the back of the bar and secures his torso from the ceiling. With no control over his body, Brandon twists against the ropes and pleads for an orgasm, but Forrest only intensifies the pleasure. He rocks Brandon's prostate with a dildo as Brandon swings in the air. Forrest ties Brandon back down to a table and gives Brandon a sensuous blowjob. Van finally arrives with Sebastian's cake -- but learning that Sebastian won't make it -- decides to put the cake to use. They spread the cake's creamy icing all over Brandon's body while he takes messy edge after messy edge. Brandon finally blows his load, the cum thickly garnishing the sticky mess all over his muscles. Van and Forrest won't let Brandon off so easily; at Brandon's first sigh of relief, they torment the stud with a wild tickling.
04/19/2016 03:00 PM
Jessie Fulfills His Fantasy: Introducing His Hot Friend to Bondage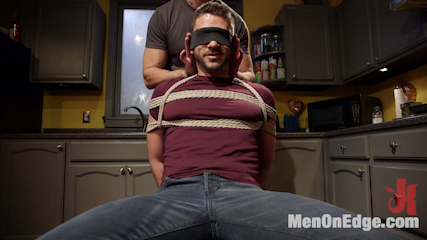 Owen Powers and Jessie Colter are hanging out over at Owen's place when their conversation moves to the topic of bondage. Owen have never been tied up, but it just so happens that Jessie has always had the fantasy of wrapping Owen's muscled bod in tight ropes. Turned on by the suggestion, Owen decides to give bondage a try. Right in the kitchen, Owen is bound tight to chair and blindfolded while Jessie takes full control. He strips the stud down, admiring his ripped physique. It only takes seconds before Owen's dick swells to full attention. Over and over, Jessie passionately jerks and sucks Owen's cock just to the point of orgasm -- but never over the edge. He takes Owen into his bedroom and binds him upright with his legs spread, leaving his ass wide open for the Shock Spot. Owen grinds against the machine fucking him as Jessie gives his friend edge after edge. The pressure is unbearable for Owen, begging to cum as Jessie straps him to his bed and continues to work his throbbing dick. Jessie takes advantage of Owen's spread eagle posture and tickles him all over before plowing his ass with a vibrating dildo. Owen finally has permission to cum and blasts a hot load onto his abs. He taste of his own seed before Jessie quickly returns to torment with a rough apple polishing.